Who we are...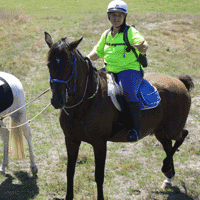 MOIRA:"Camp mother"
Hi I'll introduce myself I have been riding horses and ponies since I was 9yrs old  I'm now a mother of three girls and a grandmother, still dancing and riding as often as possible.
I love my job and I have a fantastic success rate teaching entry level riding focusing on balance and coordination I have been practicing my techniques for the past 22 yrs.  Now in Wanganui the adventures start again with new teritory to explore
Nowell my partner 25 years Painter decorator by trade and being a Wanganui raised lad, one of the driving forces behind our move here he tries not to ride horses too often as he would rather be diving the bulldozer, 4wd or playing with the wheeled toy's.